On Kickstarter and Indiegogo there are over 120 RPGs, related items, and RPG zines running at the moment. As well, Rogue Genius Games' (Owen KC Stephens) Starfarer's Codex: Horrifically Overpowered Feats Klickstarter (the not quite Kickstarter, but still crowdfunding) runs through the end of February. (Read the details about it here.) From that list, I pulled projects that are OSR, 5e, and Pathfinder for you to consider.  
Egg's RPG Kickstarters, one ends this Friday:  
Ends on Saturday, March 2nd, 2019. 
"Encephalon Gorgers will be on your mind!
Encephalon Gorgers on the Moon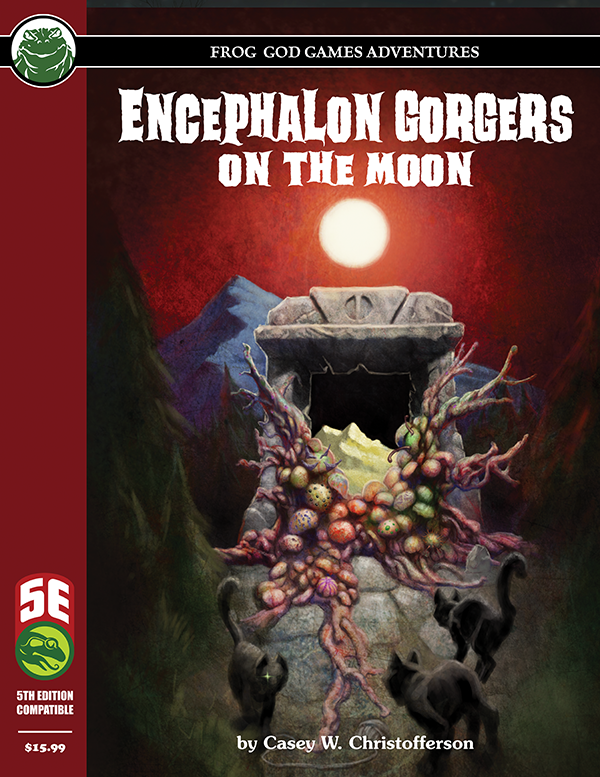 The Forest of Night has always been a strange place. The trees are far too tall and far too thick here. So full in fact that they block out the very sun leaving the entire forest in the perpetual murk of night. Even the bravest and most experienced of hunters shy away from the forest's higher paths. Far too dark they say, and far too easy to become lost on the winding trails of the primeval wood.
Recently the folk who live upon the slopes of the mountain have complained of strange occurrences, especially around the time of the full moon. Weird shrieks have been heard in the trees. Small creatures acting strangely and deer stumbling into the meadows below the mountain with their brains leaking from their ears.
The locals have turned on one another. Some suspect witchcraft. Others believe an ancient curse has returned to the land centered on hidden ruins thought to be located on the high slopes of Midnight Mountain. Is it a plague? Is the rumor of a curse true? Have demented beings from Sybil descended on the denizens of Hurrie Inn? What's the deal with all the cats?
One thing is certain. It is going to take a brave band of adventurers to unlock the secrets of Midnight Mountain and perhaps save the land from the depredation of the Encephalon Gorgers on the Moon!
What to Expect
Encephalon Gorgers on the Moon by Casey Christofferson- available in Fifth Edition, Pathfinder or Swords & Wizardry versions is an adventure for mid-level characters. We expect this will be the only time we offer the premium softcover option for sale.
Within its covers (or the digital PDF file) you will find:
A stand-alone adventure completed in 2-3 gaming sessions
A horror mystery from beyond space and time
Exploration of new worlds and dimensions
Full-Color Maps by Robert Altbaur
Richly Illustrated by Michael Syrigos
Cats!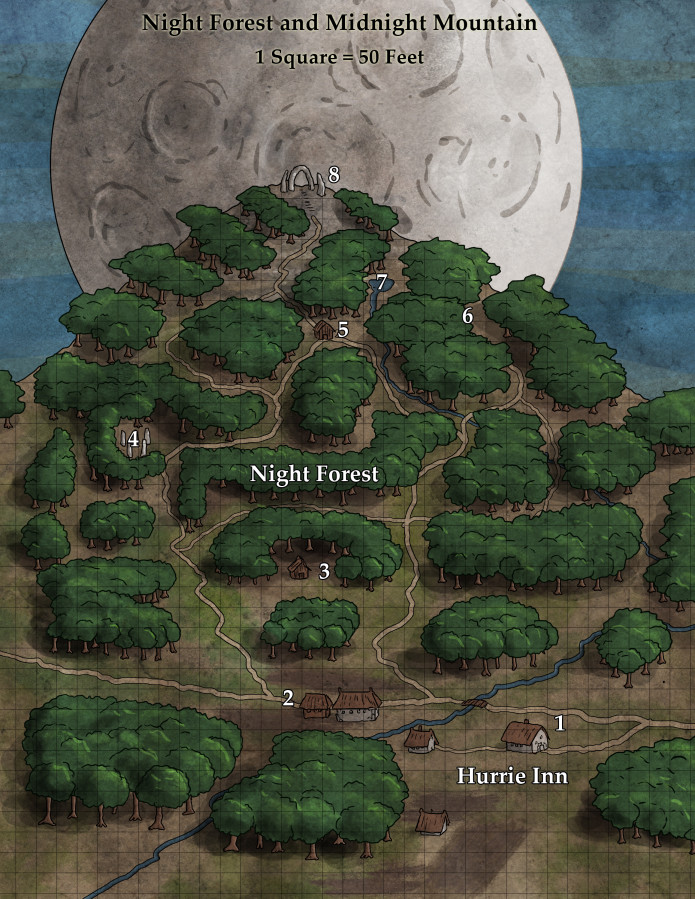 Encephalon Gorgers on the Moon  uses the same formula introduced with our last Indiegogo, we refer to this method including the focused enhancements (stretch goals) that improve the product as total project funding increases with art, extra written content and digital play enhancing extras (player handouts etc) as…"
Egg's Thoughts: 
Another of Frog God Games' Tiny Print Runs, this is a short Indiegogo campaign that is your only opportunity to get this adventure in softcover. Available in three systems, D&D 5e, Pathfinder 1e, and FGG's Swords & Wizardry, this is a long one-shot that'll take a few nights for your characters to complete. Written by Casey Christofferson, the adventure includes are by Michael Syrigos and maps by Robert Altbaur. There are also several references to cats so expect something interesting with this project.  
This crowdfunding campaign ends on Saturday, March 2nd, 2019. You can support this Indiegogo campaign here.   
*** 
Ends on Wed, March 6 2019 3:26 PM EST. 
"A OSR-themed RPG zine with stats for centaurs, minotaurs and all of the beastmen you'll ever want. Includes minis for play!
I love, love, love beastmen. There's just something so awesome about centaurs, minotaurs, and lionmen. The Compleat Beastman is a zine dedicated to bringing MORE BEASTMEN to the table.
Every issue has at least one full character class, compatible with the various OSR rules systems, Multiple generic NPCs, one or more named NPCs with adventure hooks, history, culture, and societal notes to make these species come to life in your games.
Each issue is a small, black and white zine that also contains pin-up art pieces of different varieties of the highlighted species. Here's something awesome that you don't get with other zines- every backer gets FREE ART with a commercial license to use in your own products!
Additionally, I'm releasing them with 100% open content. Use this stuff in your own books. ALL OF IT!
The material is setting- and even genre- neutral. Each of the beastmen societies gets presented as a a living culture, with notes not only on traditional fantasy themes, but also notes on how they colonize and fight in space. Yes, fantasy and sci-fi gonzo goodness.
How the Project Stands
The first issue of The Compleat Beastman is pretty much ready to go. I just have to format it and get the artwork. Because they're the iconic "taur" species, the first issue is all about centaurs. It also includes features on "near-centaur" such as bisontaurs, cameltaurs, donkeytaurs, and zebrataurs. 
The initial funding goal is for a few pieces of art, but I'd like to be able to give you all two pieces from each species; one that embraces the animal nature, and one that embraces the human nature of the creatures.
Should we continue to meet stretch goals, I'll add extra issues to this order. And you all get to decide the cycles after that. I have traditional and largely unexplored beastmen species. Here's a small list:
-Apemen
-Armadillomen
-Batmen
-Catmen
-Cheetahmen
-Constrictormen
-Crocodilemen
-Elephantmen
-Meroctopodes
-Mersharks
-Monkeymen
-Plantmen
-Platypusmen
-Raptormen
-Rodentmen
-Tapirtaurs
-Tortoise/Turtlemen
-Vipermen
-Wolfmen
I've got an outline for even MORE issues. This includes an issue on shapeshifters and were-creatures, one on chimeric creatures, plus prehistoric and titan variants, and even microbemen!
The Zine
In keeping with the rules and spirit of this challenge, we're producing The Compleat Beastman as a 5.5″ x 8.5″ book. Depending on if we hit our first stretch goal or not, we're looking at a page count of between 40 and 48 per issue.
Minis!
We're also going to produce tabletop miniatures of the spotlight species from each issue. I'm going to include printable versions of the minis in the zine. In addition, we're going to produce acrylic miniatures to accompany every issue. Backers at the $25 level get a discount on all the minis from this campaign, no matter how many they ever choose to order.
These plastic minis are printed on sheets of 1/8″ acrylic. You slot them into the 1/4″ sturdy round bases. They're very durable and easy to store away when you're done."
Egg's Thoughts: 
Jacob DC Ross of Thunderegg Productions is a good guy who helped fellow creator, Jeremy Tangman, while he's going through his rough patch (read about it here).  
This OSR zine is a treasure chest. 40 to 48 pages of beastmen, Jacob is not just providing content for you, he's also giving "every backer gets FREE ART with a commercial license to use in your own products. Releasing them with 100% open content. Use this stuff in your own books. ALL OF IT!" You're getting new stock art that you can use with your RPG publications. It's a fantastic extra for small press publishers.  
Every spotlight species in the zine will "include printable versions of the minis in the zine."  
This project gives you a zine, miniatures, and art for your projects, it's a deal.  
This crowdfunding campaign ends on Wed, March 6 2019 3:26 PM EST. You can support this Kickstarter campaign here.   
*** 
Ends on Thu, March 14 2019 11:00 AM EDT. 
"A new setting for 5E. Including new races, classes, spells, magic items, monsters, mechanics, and universe! The Retroverse lives!
The Retroverse lives! Welcome to an exciting new 5E universe from Lasers & Liches! It is an unbound universe bursting with half-faded memories, barely remembered songs, lost childhood friends, outdated styles, vaporwave, abandoned dreams, lost playthings, vaporware, and time corroded nostalgia. A place both strange and familiar. A place for adventure, chaos, friendship, and the magic of yesteryear. In short, a place that combines your love of the present with your adoration of the past. 
Do you feel like your 5E game might be missing something? Maybe a little Retro-Futurism?  We did too! It's time to get weird, time to get crazy, time for more freaking laser corgis! Lasers & Liches mixes untethered creativity with sci-fantasy and wraps it in the veneer of yesteryear. Expect neon swords, Code Dragons, Pizza Slimes, and so much nostalgia inspired world building. Don't worry though, we know that your memories are sacred, and that's why we're going to treat them with care. This was our childhood too and we are giving it the respect it darn well deserves. Callbacks are easy, and this ain't gonna be easy.  
So, what is the Retroverse? Technically speaking, the Retroverse is an unstable plane. It is constantly expanding, contracting, and gaining new extensions. It wobbles on an uneven axis among the other planes of existence. Because if this, it eventually intersects all realities in one way or another. There is no point in time when it is not linked to multiple realms at once. Where the Retroverse ends, begins, or even exists at any given time is an impossible question to answer. 
This means that you can take anything, from any 5E setting, and mash it together. Classic 5E content, mixed with Retroverse classes and species, fighting other 3rd party monsters, across a setting from your favorite cartoon?! You betcha! This doesn't overhaul 5E with a bunch of revised rules, it just makes the game cooler in every way. 
 We are creating a full 5E universe and need your help to bring it to life. This Kickstarter is focused on finalizing our content and bringing it all together into a two-book PDF format. (Why only PDF? See below) These will include new classes, playable species, spells, monsters, magic items, mechanics, deities, story, and a bunch more! We have been tirelessly pouring over our art and design to give you the best possible 5E experience and just need your assistance to bring it to light. The two PDFs we want to bring to you are The Player's Mix and The Game Master's Beats. Both will be filled to the brim with beautiful art, fun new options, and a few surprises. We have a minimum idea in mind for each and some really exciting features to include if we hit certain stretch goals. 
The Player's Mix:  This PDF will be everything a player needs to bring their Retroverse character to life in their own world. It will feature at least 4 new classes, 4 new playable species, 4 new backgrounds, 40 new spells, 8 new feats, new sub-classes and sub-species for classic 5E, and a few other surprises!
These numbers begin to jump dramatically as we unlock more stretch goals. We also have a few more surprises to add in that we think you'll enjoy. 
 If you have been following our project, you may know that we tried a Kickstarter once before. We were well on our way to funding but overestimated some things. So, after only 4 days, we pulled the project before anyone was charged. We've written at length about why but the TL;DR version is that the extra goals we had in place would not be worth it to backers and pull too heavily from the project, making the whole thing suffer. So we went back to the drawing board, spent around a year improving our product, and are coming back with a more focused goal. This Kickstarter is almost entirely geared on just finishing the project in the most affordable (for us and backers) way possible. 
The biggest changes to the game have already been made and are in our second test wave. The content now includes: 5 new playable species, 6 new classes (4 with 3 new sub-classes), 7 new backgrounds, 80+ new spells, 70+ new monster stat blocks, new sub-classes for core 5E classes, improved corruption, a new cliche mechanic, more deities, expanded basic equipment, and a bunch bunch more. 
You may notice that this is above some of our previous stretch goals and even above our base content offered in this Kickstarter. That's because we are committed to not just delivering, but over-delivering on this project. If we only hit the base funding, we will scale the project back a touch and include just a little more than you hoped for. With every new stretch goal, we increase the content coming towards you and bring an even more insane experience to your table. It's up to you to decide the final outcome!
 What are some of the new Classes we want to introduce? The full base game will include the Holo-Knight, Synth Weaver, Henshin (formerly Goreangyr), and De-Fragger! You can see pictures of them below. We also hope to expand the roster (with your funding help) to include the Apogee (formerly Code Warlock), Glitch Hunter, Datamancer, and Icon. We promise to work on them until they are as fun as can possibly be!
All the classes available in the First Test Wave have been broken apart, injected with essence of cool, and put back together with 3 new sub-classes! The Holo-Knight now has the Hard, Soft, and Quantum Light sub-classes. The Synth Weaver now has the Beat Booster, Beat Mixer, and Beat Breaker possibilities (as well as a complete backbone overhaul). The Henshin now includes three mask types, Power, Magic, and Speed, depending on which type of spandex warrior you want to employ. And the De-Fragger has the Vaccine, Data, and Virus sub-classes, depending on how you handle corruption. We've spent a ton of time working on them (and taking your feedback) to make them even cooler than they already were."
Egg's Thoughts: 
Does your D&D 5e campaign need a retrofuturism vibe? Are you looking for how the early 1980s envisioned a sci-fi/fantasy future? This could be your jam. Creating an original world within the confines of D&D is a challenge and this one has exceeded the call. The aspect of it that I'm most interested in is the random cliché generator, an idea that feels pitch perfect for this setting. The art encompasses the idea of this setting, neon and magical and mechanical, and if it speaks to you, this may be the world for you.  
This crowdfunding campaign ends on Thu, March 14 2019 11:00 AM EDT. You can support this campaign here.   
*** 
Egg's RPG Kickstarters. During Kickstarter's February initiative, "Zine Quest", I have two projects I'm involved in. One expands on 5e by looking through the filter of Valentine's and love, the other presents an original Powered by the Apocalypse RPG, this one dealing with dreams and the power to control them.    
Love's Labour's Liberated – A 5e RPG Zine by John McGuire, Leland Beauchamp, and Egg Embry  
Ends on Sun, March 3 2019 1:33 AM EST.  
Romanticized versions of popular 5e options like Cavaliers, Enchanters, and Magic Items in a zine.   
Questions about the system? Check out D&D 5e's System Reference Documents (SRDs) at: http://www.5esrd.com/    
***  
POWERED by the DREAMR, a PbtA RPG #ZineQuest by Egg Embry  
Ends on Sat, February 23 2019 4:00 AM EST.  
Play a Dreamr who can enter other's dreams in this Powered by the Apocalypse game. Full game in a zine.   
Questions about the system? The POWERED by the DREAMR RPG uses a variant of the Powered by the Apocalypse phenomenon like Dungeon World uses. While there will be differences, Dungeon World offers examples that you can check out on the Open Gaming Store.